Emberberry is a tabby she-cat with three black paws and one white one. She is the deputy of StormClan.
Emberberry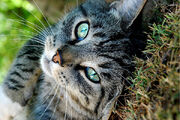 Mentor and Apprentices
Edit
Mentor- Twistedfoot
Current Apprentice- Tanglepaw
Former Apprentice(s)- Rainfall
Mate: Oneleap
Daughters- Brindleheart, Daisypetal
Son- Stormstrike
Son-in-law- Ravenclaw
Stepdaughters- Mintclaw, Cinderflight
Father- Finishleap
Roleplayer
Edit
She is named after her roleplayer.