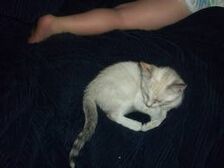 Featherpaw is a cream-gray she-kit with pale blue eyes and a gray tabby tail.

Mother: Cinderflight
Father: Berrynose
Brother:Stormkit
Aunts: Mintclaw, Daisypaw, Brindleheart
Uncle: Mottledpaw
Grandmother: Puddlesplash
Great-Aunt: Featherflight
Kit: Featherkit
Apprentice: Featherpaw
Roleplayer
Edit
Her name is Featherpaw, not Featherpaw 2. We already had a page with that name at the time, and we haven't bothered to change it.
Ad blocker interference detected!
Wikia is a free-to-use site that makes money from advertising. We have a modified experience for viewers using ad blockers

Wikia is not accessible if you've made further modifications. Remove the custom ad blocker rule(s) and the page will load as expected.