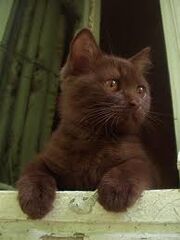 Owlpaw is a brown she-cat with amber eyes. She is a Dark Forest cat.
roleplayed by; AEOLIANEMBERBERRY!
Unknown
Personality
Edit
She is sneaky and can appear out of seemingly nowhere. Some cats say she is magic.
When Bloodyclaw looks for Blackstorm, she tells him that Blackstorm is fighting with Darkdrop again.
Roleplayer
Edit
She stole prey from her Clanmates her whole life and broke the warrior code, so she was accepted into the Dark Forest.