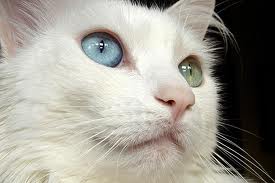 Snowpaw is a white she cat with one blue and one green eye. She is also deaf in her left ear.
Mother: Hazewhisker
Father: Flamefire
Sister: Featherpaw
Snowsong is born to Hazewhisker and Flamefire. She has a sister named Featherkit. Snowkit plays with Featherkit then goes to Flower Garden. A rough daisy scratches her eye and causes it to turn green.
one of her eyes turned green because she cut it on a daisy.